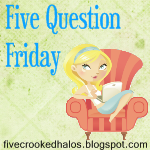 To learn more about 5QF go HERE
Gosh, its been back to back 5QF around here. I might need to find something else to post soon. In the mean time...
1.
Is love at 1st sight possible?

Yes, what guy (who shall remain nameless) wouldn't love a hottie in hot pink stripper shoes at first sight??
2. H
ow did you choose your pet's name?
Well, when Leighanna and I brought the dog home it was one of those "do it and ask for forgiveness later" kind of situations. As we were driving home and I was teaching my daughter the before mentioned meaning of life,we needed to come up with a name that daddy would LOVE. Ya know, to soften the surprise. W
e came up with Oakley because daddy LOVES all things Oakley.
Totally worked, BTW!
3. W
hat are you considering giving up (cable, home phone)?
Give up?? WHA?? I actually still use my home phone.
4.
How much do you pay your babysitter?
I pay her in clothes, food and the occasional mani/pedi.
5.
How "young" is old enough to babysit?
I think it depends on the situation, but 13 is a good number. Old enough to be responsible and young enough to not be boy crazy. Ya know what I'm sayin?
Hope you guys have a wonderful weekend!