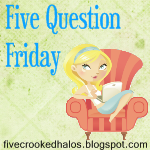 Click on the photo to check out 5QF
I took a half a day off of work today because the kids are out of school. I am so excited because they wanted to go out and play... meaning I have quiet time to blog. What better day than Friday??? I get to sneak in a little 5QF.
1. What's the last thing you spent too much money on?
Easy!

BUT! In my defense... I love it AND I did buy it at the outlet; so it really could have been worse.
2. What celeb chef would you want to make you dinner?
Paula Dean baby! We all know that if its good... its probably not good for you. Paula's shit it fattening... so that shit MUST be good.
3. Where do you hide things when visitors pop over or do you let them see the real deal?
I have two spots... My room or the garage. I can do the 10 minute tidy like nobodies biz nez. Seriously, I think they should have named it the Lora.
4. Who is your oldest living family member?
My grandma... she's 85.
5. What is your favorite DQ treat and/or Sonic drink combo (ie: cherry vanilla dr. pepper)?
We don't really go to DQ because its just not convenient. We live right by Sonic though... and if you don't know the answer to this one... you don't know me AT ALL!
Go ahead!!! GUESS!!! What is Lora's favorite Sonic drink combo?