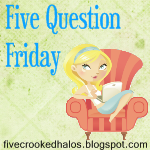 For more on 5QF, go HERE
1.

What is one grammar issue you cannot let go without correction?
UMMM (fingers tapping and queuing Jeopardy music)...
UMMM (thinking, thinking, thinking, do do do do do do do dum dum)...
I can't stand it when people...
Are you kidding me? I'm usually the one being corrected (read profile). Hell, you're probably correcting me now. Stop that!!

Let's just move along :/
2.
What's your favorite thing about fall?
The clothes. The Weather. I love that I can go outside and not feel like the air has been sucked out of me. Winter is my fave though.
3.
What's your favourite dish to take to a potluck?
I usually go for the deserts. I can make some mean deserts.
4.
When do you start Christmas (Holiday) shopping?
I start picking up small stuff mid October when I start shopping for Leighanna's birthday. I take a break right after and then it's on for Black Friday... that's more of a game for me though. Even if I am not looking for something specific, someone I'm with usually is.
5.
Did you move homes a lot growing up?
I did. Because of that I hate moving. I want my kids to have that feeling of being n the same home growing up. Weird, I know. We've been here for 14 years.