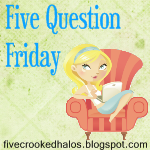 1. If you had a weekly newspaper column, what would you name it?
Hmmm, there's several possibilities for this one.
-Shitz Gettin Deep
-The Shoe Ho
-Lovely Lora Talks Back
-Mama Drama
I have always wanted to do an advice column, like Dear Abby or something... except I could see me being a bit more sarcastic with my advice :]. I can totally understand why no one would give me one.
2. Who is your mentor/inspiration?
????

(*cue Jeopardy music)
????
These serious questions are hard!
3. What is your wake up beverage of choice?
Some days I go for coffee and some days I prefer the diet coke. When I am being good... I am cut off from both.
4. Would you wear your mom's clothes?
hehehe! NO! First of all, my mom is about 5'2"

(with shoes)
and I am pushing 5'7". I think I would look a little funny. We'll just leave it at that ;)
5. When you were a kid, did you put posters on your wall? If so, what were they of?
I had my walls PLASTERED! The posters overlapped so you couldn't see any part of the wall. I remember having wall to wall New Kids on the Block posters... especially Donnie
(of course I liked the "bad boy"... if you can consider any of the NKOTB "bad boys")
.
Here are a few of the ones I actually remember having...
However, now that Donnie has receding hair... I prefer his brother.
Get you some Marky Mark!!
Lets see what
extras
we have from last week...
Alexis says...
OMG. If possible I love u even more!
Of course its possible! I AM pretty damn lovable ;0)
When when when are you coming to Vegas?! Bring those shoes and those moves and we are soooo going out!!
I would love love LOVE to come to Vegas!!! We need a Dmama meet up. What happens in Vegas, right?
Reyna says...
I could so picture you and I out dancing together.
Meet us in Vegas girl... Lex will show us where all the good "Ho shoe" stores are and we can make part two of that shopping video :)
ah, yeah...you are part of the "bad girls of the DOC" club. I think it is you, me and Lex...DUH.
Hmmm! I have always considered myself a good girl. Ya know, former PTA mom and all.

(*snickering)