NaBloPoMo... day 8

Click HERE to learn more about NaBloPoMo

To lighten things up a bit... how about another round of "Five Question Friday"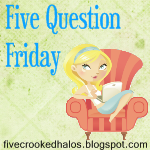 Click HERE to learn more about Five Question Friday

1. Do you think cursive writing is overrated?

(Schools in Indiana have now voted to take teaching cursive writing out of their curriculum.)
Well shit... Lets just vote to skip school all together.

We keep taking the basics out of the curriculum. At this point... the kids behind the register at all the fast food places can't count back simple change. Some teachers are eliminating spelling tests and they are not required to teach multiplication. What's next?
Ya know... I learndid all doze things and I turndid out jist fine!
2. Do you still use a pocket calendar or notepad or do you keep your info on your smart phone?
I plaster my crap all over the place. In my phone, on the wall calendar, I leave notes all over the house with things to do. However, if its not on the fridge calendar... I wont be there. I can't seem to follow the calendar on the phone. Maybe its the old lady in me.
3. What 3 things would you save if your house was burning down? (family & pets are already safe)
1. My computer

(for serious! Who gives a shit about the kids... they can run).
2. Photos -

the ones that came before digital cameras can't be replaced.
3. My grandmothers stemware -

Some belonged to my great-great grandmother and some were my great-grandmothers. It would break my heart to loose them.
4. Country Mouse or City Mouse, err Person?
Can I split the difference?
I do not care for the craziness of the city. But I also like to live close to stuff. This is how we roll now... not in the middle of it all, but close enough that cow tipping is NOT our only form of entertainment.
5. If you could pick ANY reality show to go on, which would you pick?
*scratches head*
*ques Jeopardy music*
*has total blond moment*
*turns to google... searches top 10 reality shows*
Survivor - YUCK but I would loose lots of weight.

The Bachelor - already married

Flavor of Love - hellz no even if I wasn't married.

The Apprentice - do-able

America's Next Top Model - Not even 20 yrs ago

Extreme Makeover - ooo! Then maybe I could do the above

The Biggest Looser - Probably need it

The Amazing Race - I think I can... I think I can

The Hills - like... no way!

John & Kate plus 8 - am I Kate, one of the 8 or the nanny? Either way, I'm thinking no.
Survey says... Extreme Makeover
And just because I said I would answer them... there was a few questions in the comments last week.
Alexis wanted to know when you would see a pic of me in my stripper shoes... here you go twin
Meri wanted to know the difference between "assier" and "a

$$

ier".
Well Meri... that would be the dollar signs :)
And Amy wanted to know who in the world gets their groceries delivered... Beats the fuzz out of me Amy.
Anything else you wanna know??
Happy Friday!