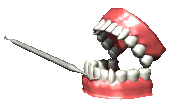 My kids are growing up
(sigh),
so last time I was at the dentist I talk to my hygienist about transitioning the kids from pediatric to an "adult" dentist. I really didn't feel like their teeth were getting cleaned all that well.
Of course the obvious question is "what age is good?" She said it depends on the kid. Are they scared easily, do they sit, etc...
My other big question was "Whats the difference between a pediatric dentist and an adult dentist?" She said MOST pediatric dentists DO NOT employ actual hygienists... they only have assistants. Dental assistants can't clean teeth... they can only brush them.
Well THAT explains a little.
So I decided to go ahead and switch them. Leighanna is for sure able to step us and I feel that with all the late night juice and such... a good cleaning for Justin was in order.
Anywho... today was the day.
Both kids

(and mom)

did great! No cavities for any of us :)
I did ask what I could do to try and help avoid cavities due to the late night juice. They told me that I should have him drink a little water to avoid the sugary drink sitting on his teeth. Good point! Now lets see if I can remember that in my late night half asleep drive by juicing.
In six months... we get to do it all over again :)