NaBloPoMo... day 19
You asked for it...
(HERE in case you don't remember)
The recipe to the Strawberry Pizza.
Now, I thought about running up to the store and buying the stuff to make said pizza, but then I would eat it. And since I JUST started dieting again after I fell off the wagon a few weeks ago
(and ate amuck, btw!)
I decided that I could not partake in such temptation.
Because I am putting my "I will not break my diet" foot down

(at least for today)

... you will have to settle for pictures from Google

(which made it REALLY hard not to go with plan A... just so you know)

.
You will need:
Strawberries
(about 2 quarts cut into 1/2 or 1/4)
Pillsbury Pies crust
8oz cream cheese
(softened)
Powdered Sugar
(1cup-ish)
Cool Whip
(1cup-ish)
Marzetti's Strawberry Glaze
Topping: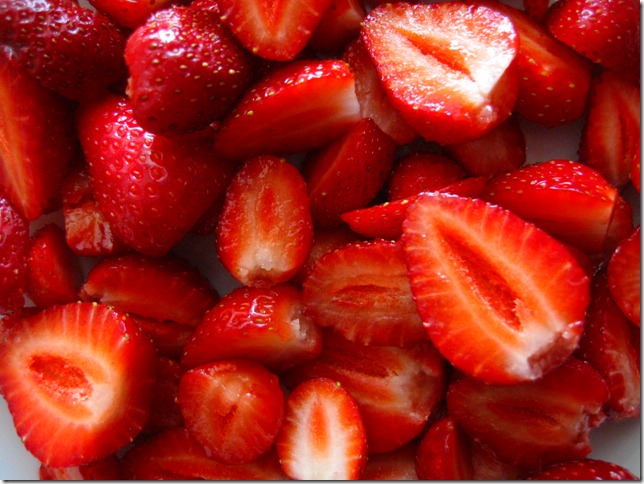 -Combine strawberries and Marzetti's glaze. Put in fridge to chill.
The crust:
-Preheat oven
(whatever it says on box)
-Unroll one sheet of the pie crust and place it on a round cookie sheet. I use about 1/2 of the other roll and piece them together to make my crust the same size as the pan.
Google Pic.. mine does not look that uniform
-Pinch

(or roll up)

the edges
-Bake
(according to the directions on the box)
-Let cool completely
Center:
-Beat together...
cream cheese and p
owdered sugar then add cool whip and mix.
*the recipe call for 1cup each, but I usually add in a little extra... to taste.
Assemble:
When crust cools...
-Spread cream cheese mixture on top
-Top with strawberry mixture
-Chill and serve
On a side note... if you come visit me I would be more than happy to just make it FOR YOU :)
Happy Tuesday!